The following events will take place in the Hudson Valley Region. Click on a link to learn more!
The tour is coming to Dutchess County. Dates TBD
---
The Economic Reality of The Hudson Valley Symposium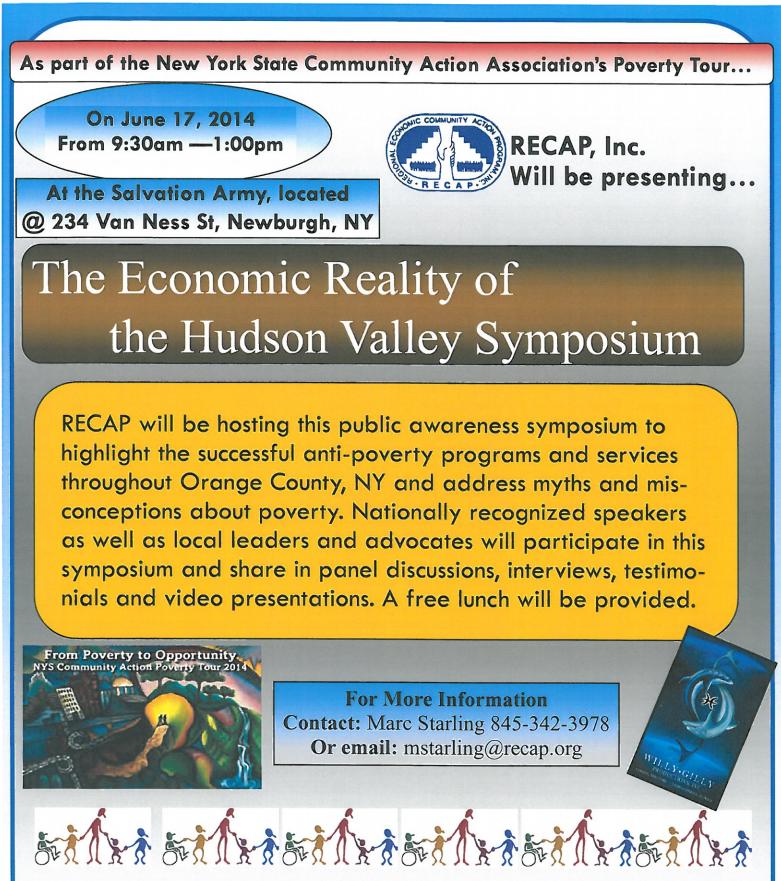 Photos
[slideshow_deploy id='2873']
---
Ulster Community Action helped to kick off the tour with a speaking event and lunch. Congressman Chris Gibson and Assembly member Kevin Cahill sent representatvies to the event, along with NYSCAA staff. 72 people attended the event and signed the guest book, 475 lunches were served at five sites within Kingston.
Media Coverage:
Innovation Trail:
---
A Poverty Simulation, "Walk in My Shoes", will be hosted by three WestCOP Programs- Putnam CAP, Peekskill CAP, & the Foster Grandparent Program.For more information about this event, please call: 845-278-8021.
---
Fifty years after President Johnson declared a national war on poverty, where are we now?
That question was discussed at a public forum Let's Talk Poverty on September 9th at the Tarrytown Community Opportunity Center (Tarrytown C.O.C.).
Let's Talk Poverty was sponsored by the two local community action agencies established to improve the lives of low income people – Westchester Community Opportunity Program (WestCOP) and Yonkers Community Action Program (YCAP.)
To open the "town hall" conversation, four presentations will focus on the scope, status and success models actively addressing the impact of poverty on health, housing, employment and education. Dialogue between the panel and the attendees will follow to provide a thoughtful exchange and shape any follow-up identified by the group.
40 people attended this event. A state senator spoke – as well as 4 panelists.
For more information, please visit http://www.westcop.org/.
---