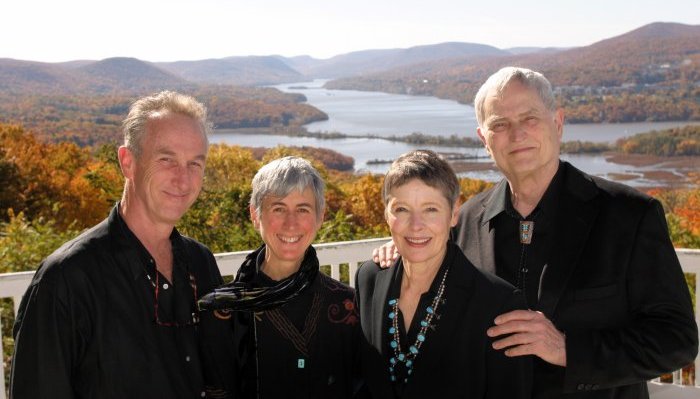 For over four decades, Hudson River Film & Video, an award-winning production company, founded in 1970 by Mike and Sonja Gilligan and Chuck and Michelle Clifton, has produced independent documentaries aired on public television and other networks.  The two couples have combined their backgrounds in psychology and arts to produce documentaries that get to the heart of powerful human issues.  Regardless of the subject or the circumstances, they create a safe place where interviewees are empowered to reveal  themselves and their stories.   After nearly 45 years of collaboration, Mike, Sonja, Chuck and Michelle have developed a unique perspective that has become the signature of their work.  The innovation and improvisation employed has been recognized and rewarded repeatedly.  The company has been nominated for ten Emmy Awards, and has won five Emmy Awards.  In addition to their documentaries and independent films, Hudson River Film and Video has produced industrials, national advertisements for television, educational and instructional videos and community productions.
Independent Film Productions Include:
2009 To All on Equal Terms:  the Life and Legacy of Prudence Crandall
2008 Jail Talk
2004 MANHOOD & VIOLENCE: FATAL PERIL: Nominated for Emmy Award; 2005: Winner of The Videographers Award, Telly, Davey & MarCom Creative Awards.
1994: WORLD'S END: A BRIEF HISTORY OF THE HUDSON RIVER HIGHLANDS: Houston International  Film Festival: Certificate of Merit
1991: FARMING AMERICA: Houston International Film Festival: Silver Award. Narrated by Colleen Dewhurst
1989: THE HUDSON RIVER: AN AMERICAN PARADISE: Emmy nomination: Outstanding Issues Programming. Narrated by Hal Holbrook
1987: METRO: MANHATTAN CHOWDER: Cine Golden Eagle. New York Times: "Splendid, fascinating." World Theatre Fest, Nancy, France. Narrated by Colleen Dewhurst
1981: NO EXCUSE, SIR: Cine Golden Eagle; American Film Festival; Oklahoma International Film Festival; EFLA
1980: REFLECTIONS: Puerto Ricans in NY:  National Daytime Emmy Nominee; International Silver Screen Award; World Theatre Fest, Nancy, France
1979: HENRY HUDSON'S RIVER: A BIOGRAPHY: Emmy Award; Cine Golden Eagle; Grand Prix: Houston International Film Festival. Narrated by Orson Welles
1976: CHRISTINA'S WORLD: Four Emmy Awards: Outstanding Documentary, Editing, Cinematography, Writing/Direction; Cine Golden Eagle. Narrated by Julie Harris
 Educational Film and Video Productions:
2006: Rebuilding the Church, Rebuilding Lives: Telly Award
2005: Genesis: Telly Award
2004: Five Friars on a Mission of Hope: Telly Award
2001: Manitoga: Historical Services Award for Excellence from Lower Hudson Conference of Historical Agencies & Museums
1998-99: Welcome to Dutchess County (shot over four seasons) for Dutchess County Tourism Promotion Agency: 2000 Telly Award; Historical Services Award for Excellence from Lower Hudson Conference of Historical Agencies & Museums
1997: ESPN: Breaking the Lines: The Jackie Robinson Legacy Cable Ace Award (editing)
1996: The Story of the West Point Foundry: Historical Services Award for Excellence from Lower Hudson Conference of Historical Agencies & Museums
For more information about the film company, please visit:  hudsonriverfilm.org